Well we woke up to another fine morning in Kent,
& these are a couple of views of Maidstone from our hotel room overlooking the River Medwaybelow.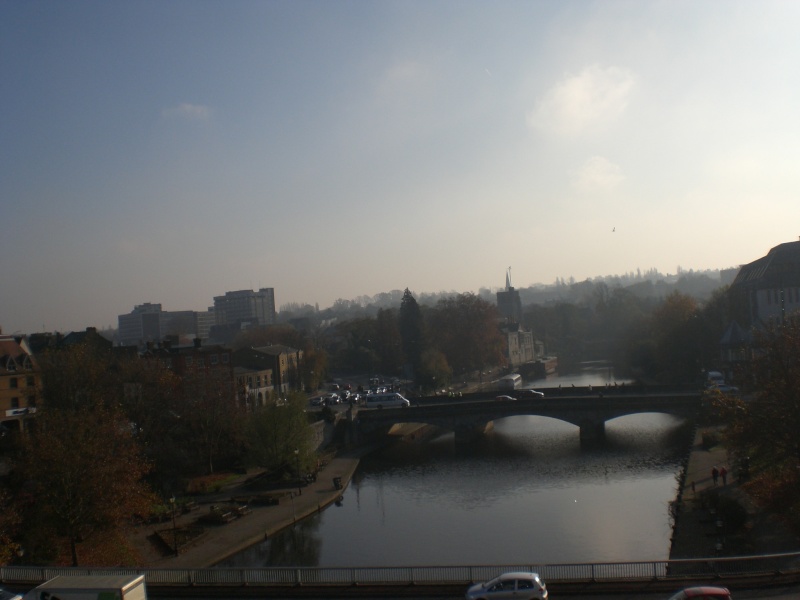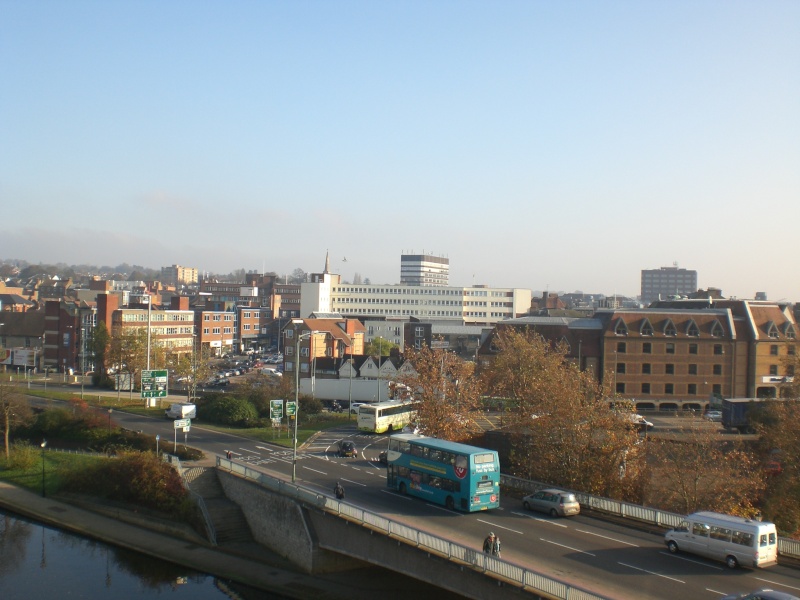 We walked up to the town to go to the Muggleton Inn, another Wetherspoon's pub for a traditional Breakfast. Very nice it was as well, & set us up for the day.
I had been secretly texting & phoning Don about surprising Deb's at her work. He said that she did not have a clue, & he had told her that he was working from home that day, which she fell for hook, line & sinker. He couldn't meet us at Deb's work, as he was waiting in for the BT man to contact him. I am not sure if you all are aware of Deb & Don's problem with BT broadband, :n!b: but they are having trouble with their Internet speed & BT vision apparently, I was totally unaware of this problem.
Well we pulled up to the car park of the shopping area that Deb's works in in Allington, a suburb of Maidstone I believe, sat in the car for a few minutes before we did a reccy of her shop. We walked through a gap between her shop & a Waitrose shop. I casually walked past backwards & forwards, with my hand covering my face to see the layout of the shop. The plan was to cover my face with my scarf & ask for a lottery ticket, whilst San was round the other side filming it. So we went into the shop out of view of the counter where Deb's was working & I put my scarf around the bottom half of my face. If a Policeman was walking by, & Deb's son Mark is by the way, he would have thought that a raid was about to take place.
So I proceeded up to the counter covered by my scarf, with San approaching from the side, this is the outcome, captured for prosperity.
https://www.youtube.com/watch?v=rzmIEOhukYQ&feature=feedu
She wasn't quite sure at first, & was just about to get me my lottery ticket, when she realised who that tall chap with a scarf round his face was.

Her colleague, then said she could leave early, which was a lovely gesture, so we went back to her house to meet Don, Mark & Buster, plus numerous amounts of fish in their tanks.
I told Deb & Don about my
VERY
expensive purchase of the MF Golf Championship Trophy,

where Deb's handed over the said trophy to San the 2010 winner, in their back garden, as seen before.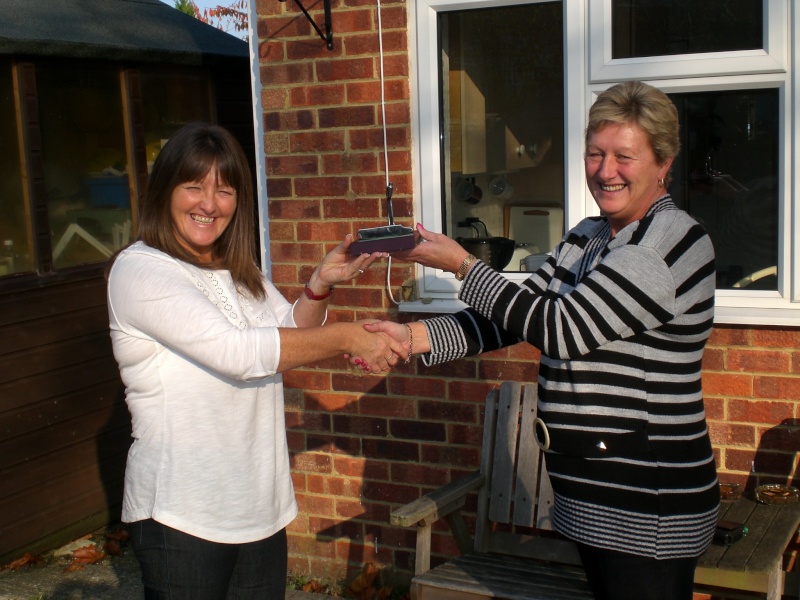 Apparently they have had a minor problem with their internet, :n!b: to which I was not aware of.
So I took a photo of the happy couple, which I think explains their situation.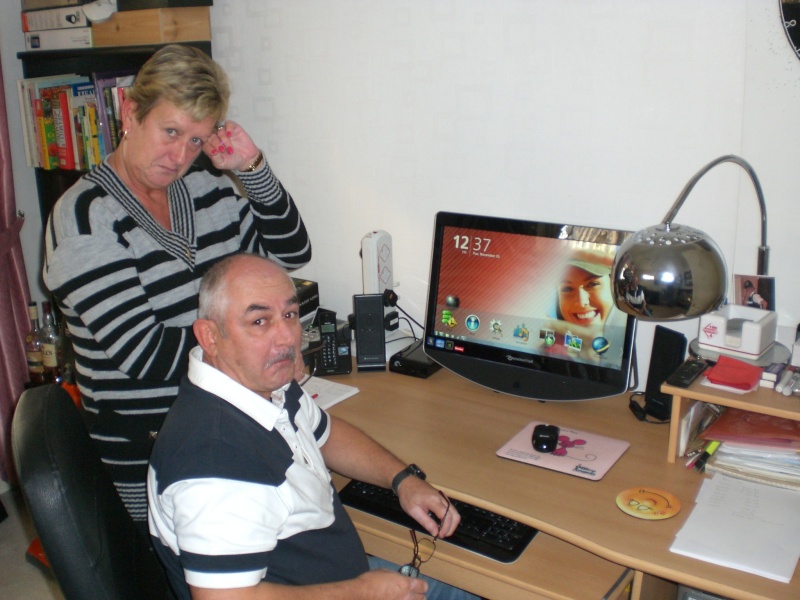 Whilst we were at their house, BT guys Ian & Stuart were constantly on the phone to Deb's, as this problem is slightly closer to being resolved hopefully, as it has dragged on for them for 8 months.
Buster, their guard dog,
was constantly looking for attention from his duck, which we had to throw round the room for him to retrieve.
We then went up to a local Beefeater Pub, The Thomas Wyatt for our tea with Mark, their son & his girlfriend Natalie.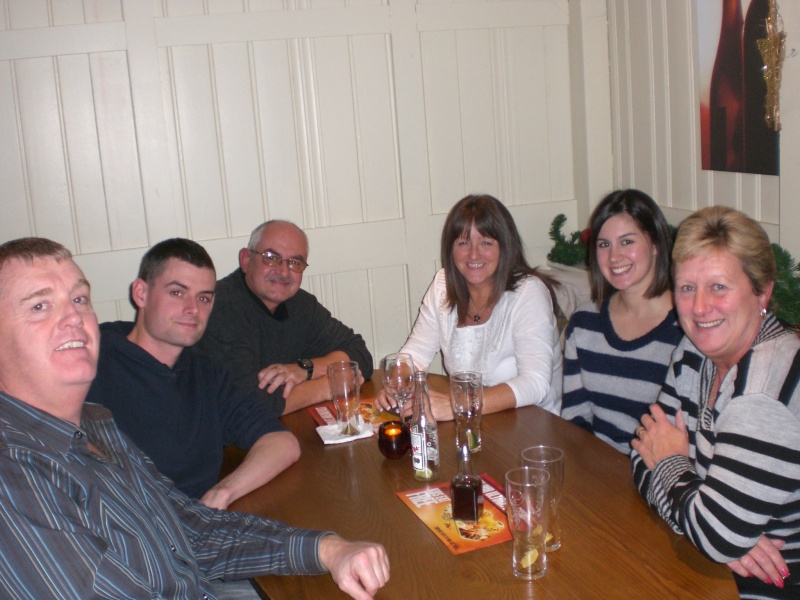 Whilst we were there, the BT engineer Ian, was on the phone to Deb's.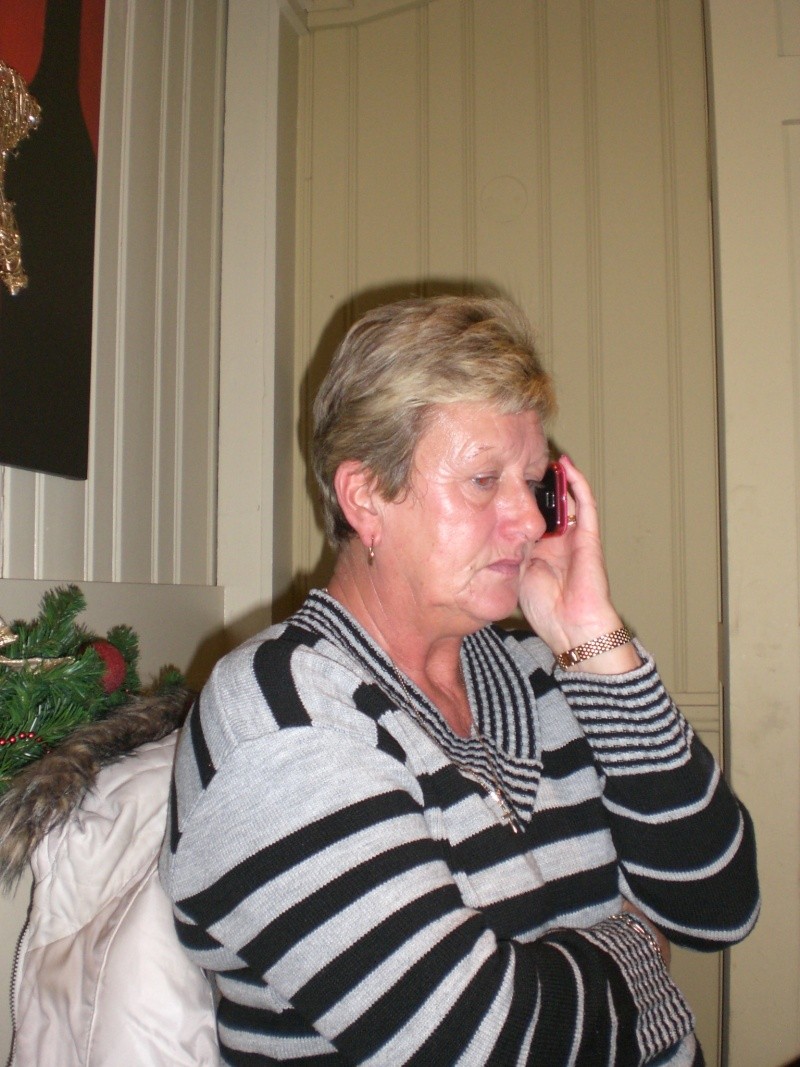 Deb's has a strange way of talking into her mobile, as she thinks that she has to talk through her eye.

Where as I talk thorugh my arxe, as you are all aware of.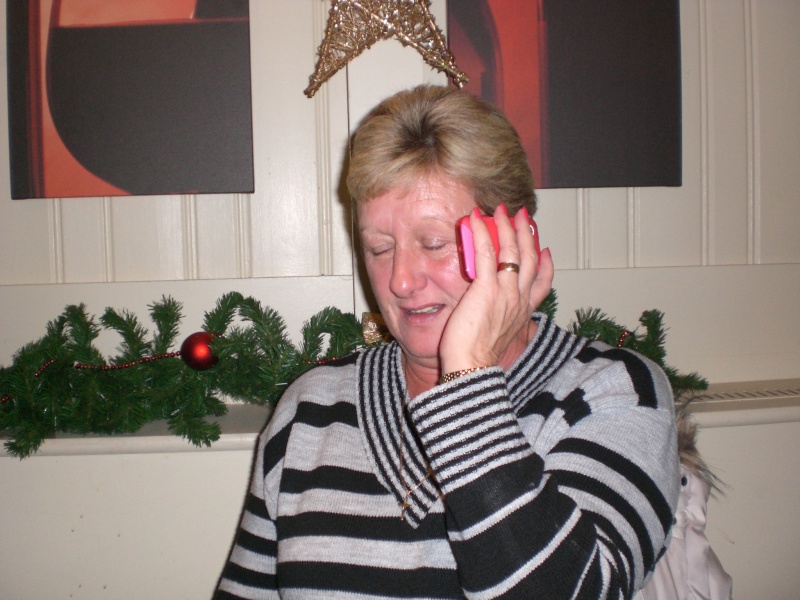 We then went back to watch a very boring England game against Sweden.
Where San was on a wine mission, & believe this or believe this not, Deb's never touched one voddie all night.
I think she was ill or something.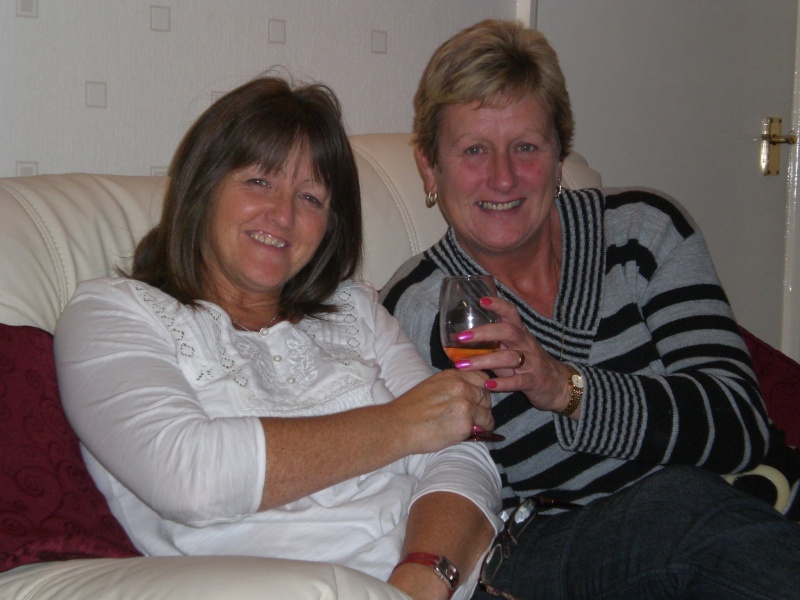 Deb's & Don, kindly gave me a mobile phone, as mine was playing up, which was very kind of them. Here is Don explaining how it works. BTW, I was not asleep, it just looks that way.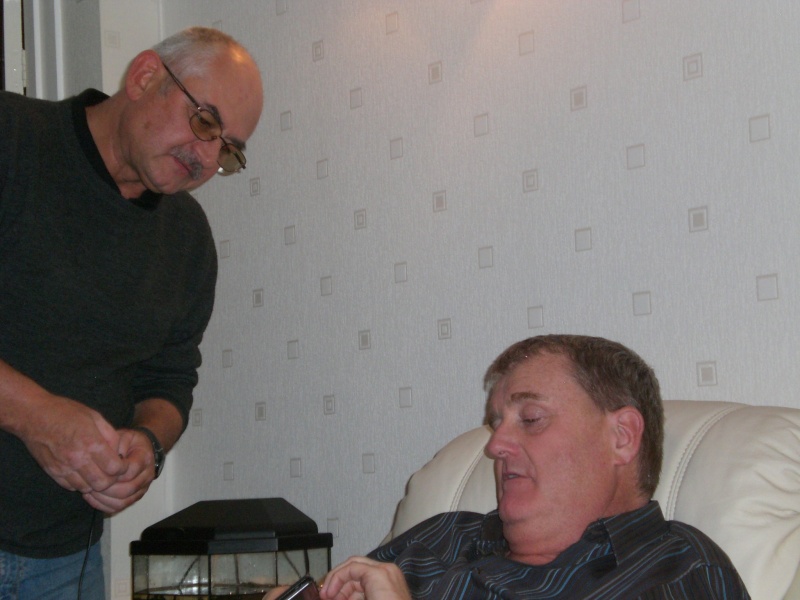 We spent a great day with them all & we didn't want it to end. So we took a group photo, but I think that Deb's & San had a phone call coming through from BT again, as their eyes were shut.
We then went back to the toilet rolls, for our last night. In the morning we went back to the Wetherspoons pub, to have another breakfast, before setting off for our homeward journey. We stopped off at Deb's work on the way through to say thank you for everything & our goodbyes.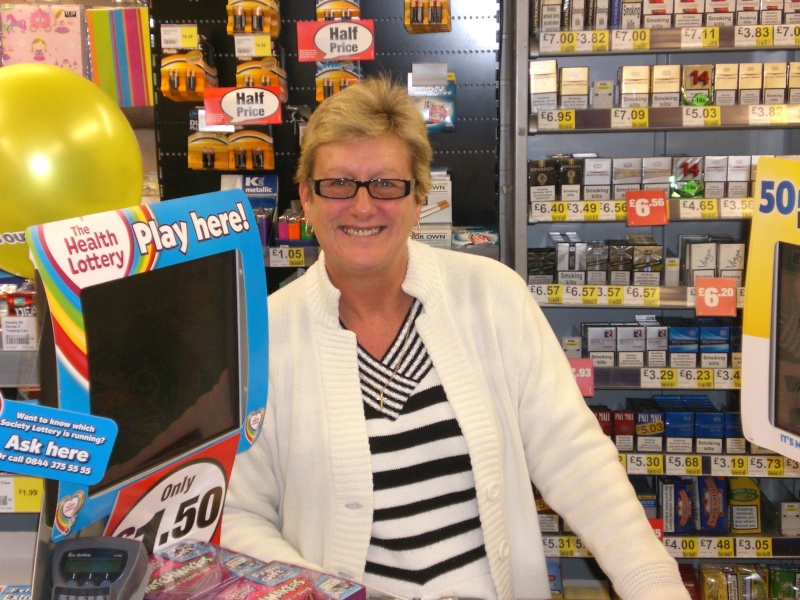 All in all we had a fabulous few days away, meeting great friendly people along the way. That is what life is all about in my book.