Well we woke up, yet again, to another cloudy, with the sun trying to break through, start to the day.
But we decided to make the most of it & go for a wander around Magaluf. This is what we had to do to our apartment front door, as the wind was blowing a gale at time, to stop it rattling.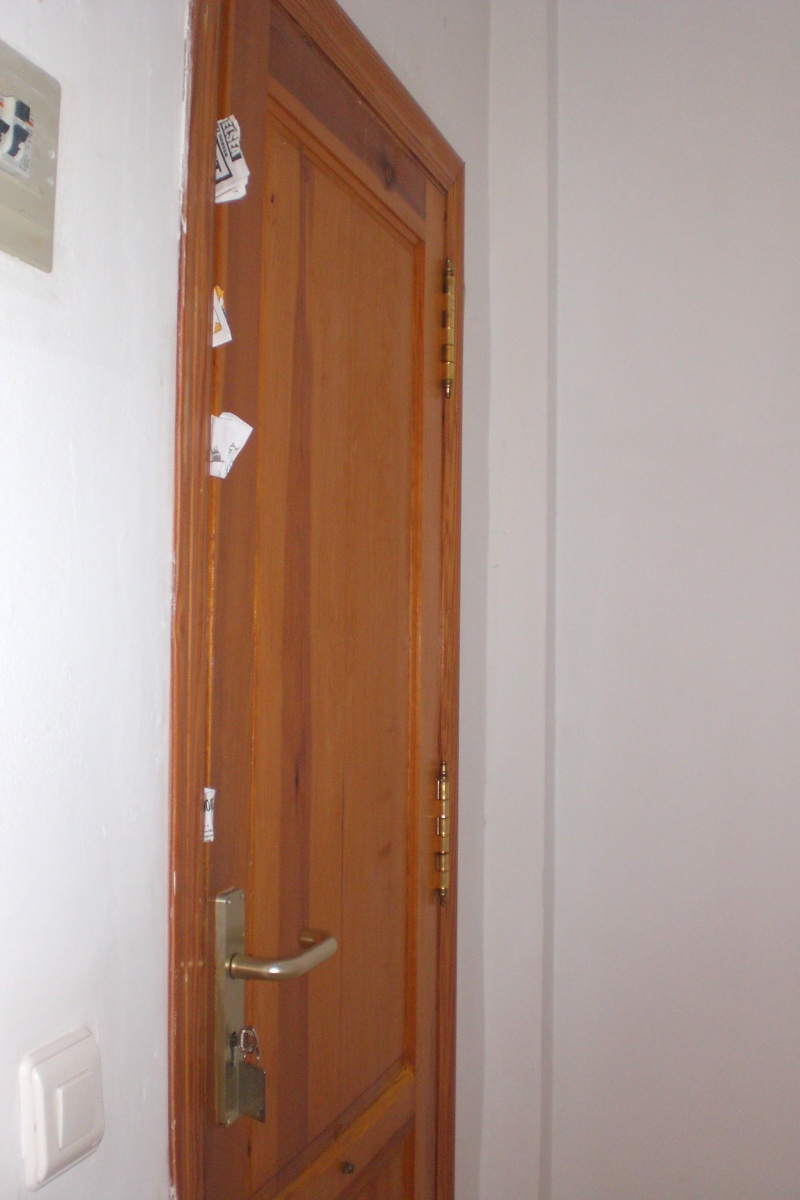 This video probably does not do the wind justice, as it was at times howling a gale, but you can see from the trees it was blowy. (PS sorry about the ending showing my knees & feet).


So after breakfast, we took a walk up the strip & stopped off at Revolutions Bar for a chill out, a nice cold beer, & a people watch.
View form our seats heading towards the sea.
We then had a wander up the hill, to the Slingshot/Vomatron, (turning ride should be renamed Vomitron

), area, to have a chat with one of the guys that work there.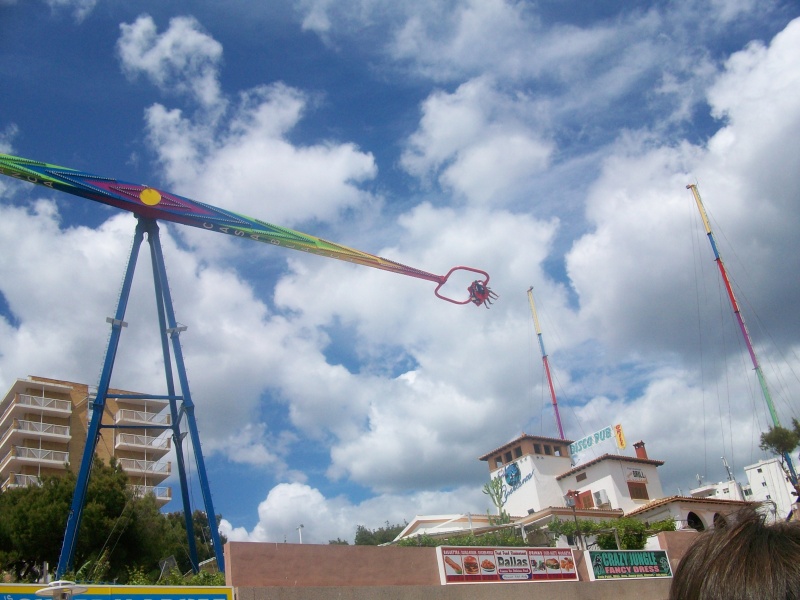 The cost for both is 30 euro's each, which I believe includes the video on the slingshot. But they do have offers on all the time apparently.
The waiting area for the Slingshot.
He was saying that the slingshot gets fired at about 100mph & goes almost 100 feet past the main 2 supports.
No thank you very much.
The guy who owns these rides, is an Australian multi millionaire, who has them in Ibiza, Florida, Australia & Faliraki to name but a few.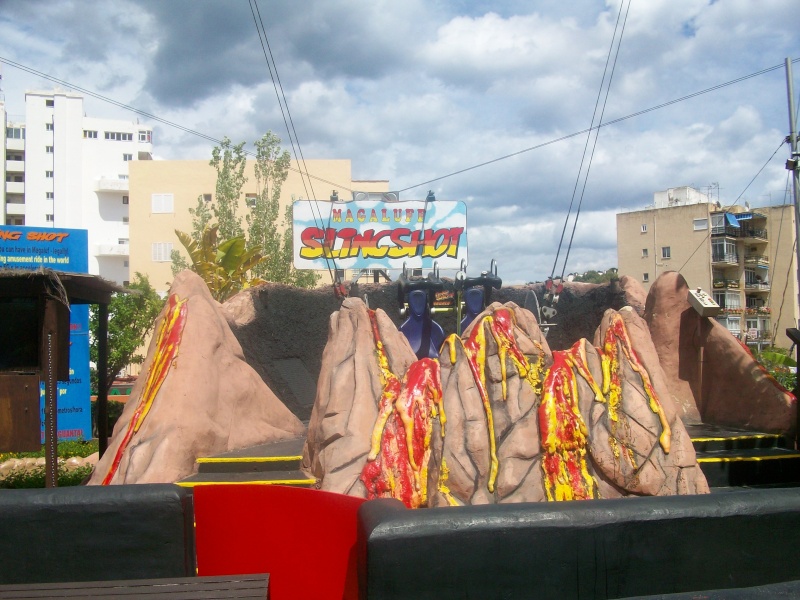 I took one last video this time of the view from our balcony, just before we went out for our last meal.
At night we decided to go back to the Fantastic Restaurant, where we had first tried it in October, & was late to meet Deb's & Don,

for our evening meal. It is used a lot by the Scandanavians, who seemed to be in the majority, but nothing wrong with that at all. It can be got to, from the Scando Bar, (The Kings Arms), off of the Strip,
or the road opposite The Eastenders Bar. San had garlic bread as a starter, & I had pate, Noo decided not to have a starter. For our main,
San had Chicken a L'Orange, with rice & vegetables, same as what she had in October, but still very tasty again.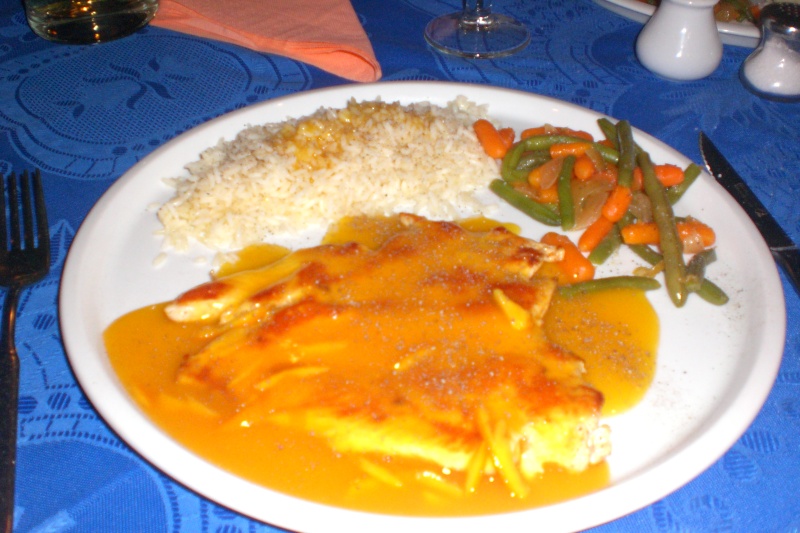 Noo had Trout with almonds, with some rice, a baked potato & vegetables. TBH, she had to get the bones out, so it was getting a bit cold, but it tasted lovely.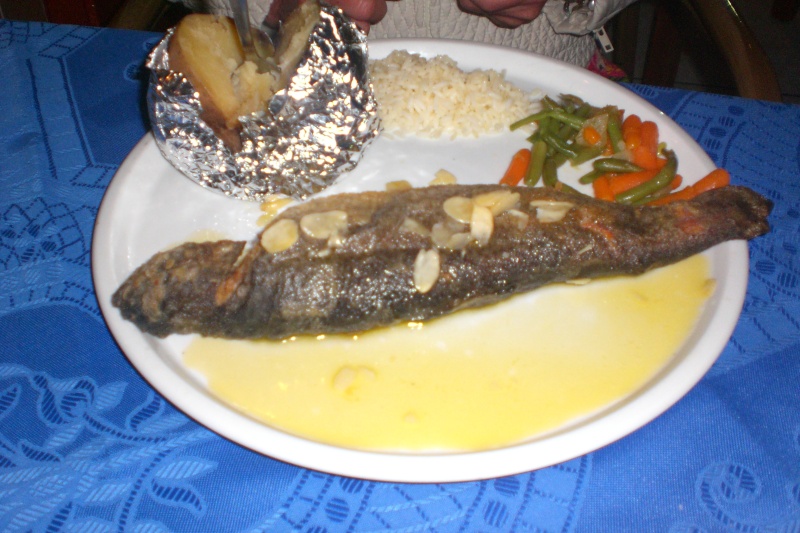 I had Suckling Pork, with some rice, boiled potatoes & vegetables, & very nice it was to.
I had a Cinnamon type brulee for a dessert, very nice, Noo had a coffee & San had a Calypso coffee, with a bottle of wine & free shots at the end, when the bill came, it was a pretty reasonable 55 euro's including a tip. Again I would recommend it.
The last day was spent on the beach, after a fabulous breakfast at the Titanic Bar leading to the paseo. Where most of you may have read I did my Daniel Craig impression.
http://majorcaforum.forumsmotion.com/t7541-me-doing-a-daniel-craig-james-bond-impression
At night we went back to Los Curries for our traditional last night curry.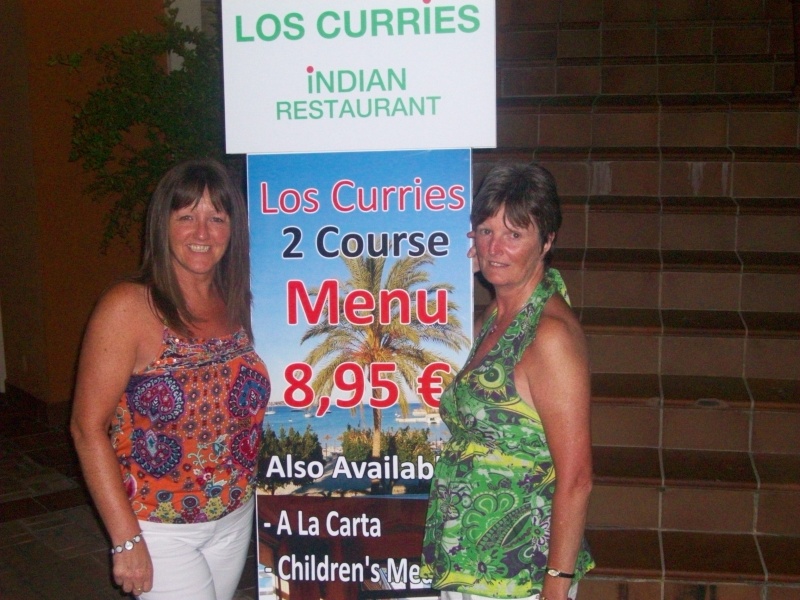 This time Noo had a Chicken with Mango curry, San had another Chicken Karahi & I had a Chicken Jalfreizi with rice & a Garlic Naan bread, after the normal starters.
We thought Noo had pulled on the way out, but the guy was very silent towards her, probably playing hard to get.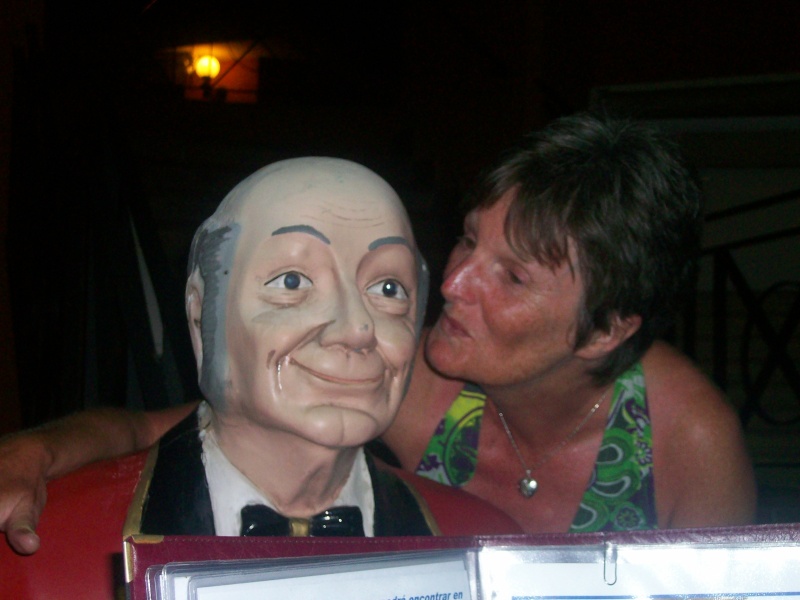 San then tried, but she had no luck either.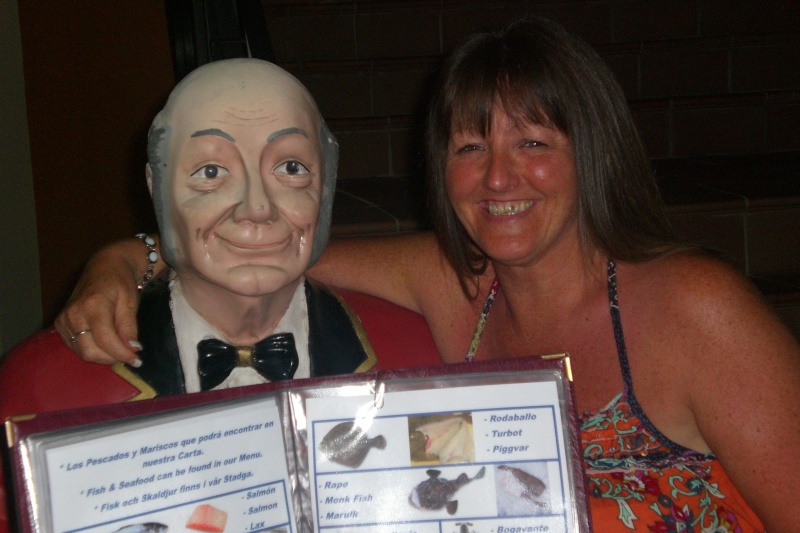 We had a night cap at The Plaza Cafe, where Noo had better luck, with Jesus, the terrace barman.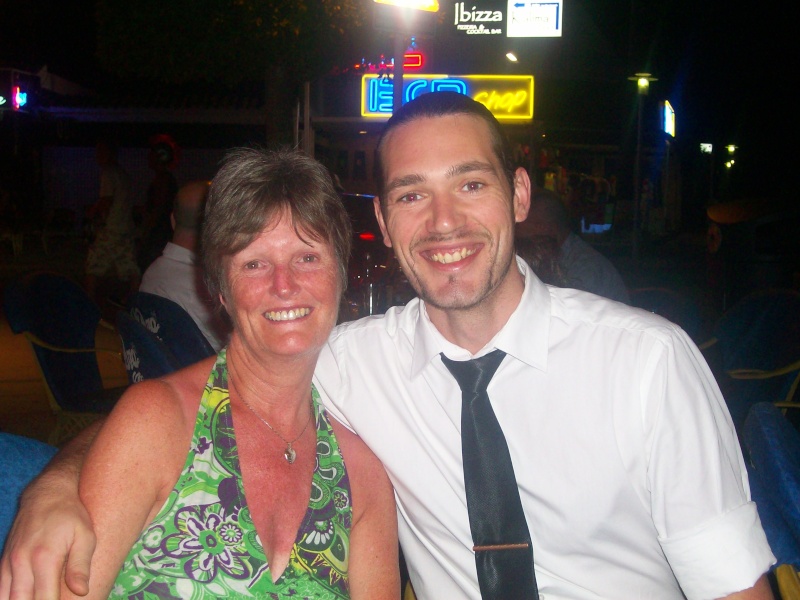 We took one last look at the Square, before heading off home, as we had an early start in the morning.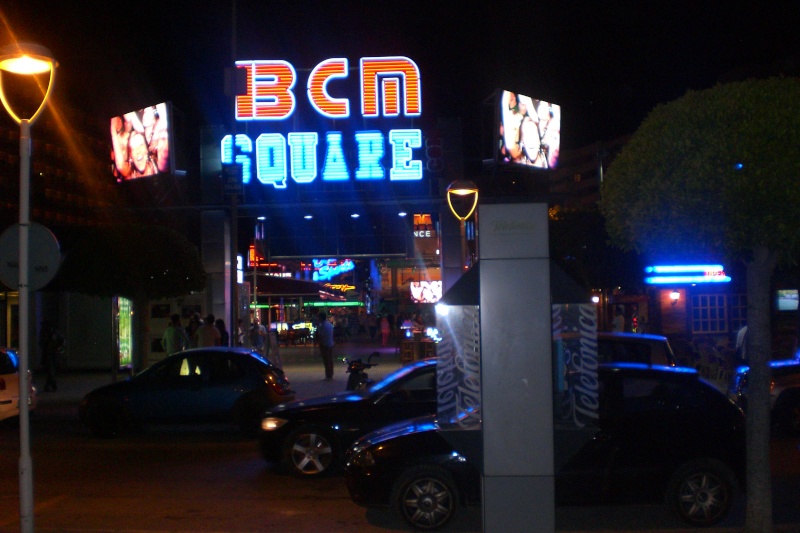 We got up in the morning to a bright sunny day, bloody typical, where the Galitrans guy came, spot on time to take us to the Airport. I can't speak highly enough of this firm, absolutely brilliant. The flight back was pretty uneventful, until we landed at Luton. The two girls were ahead of me, & I was pulling along a big case & a hand luggage case.
As I approached the exit, a Customs Officer stopped me & said, " Where have you come from Sir?"
"Palma," I replied.
"How long have you been there for Sir?"
"7 days, " I replied.
"Did you travel alone Sir?"
"No, I am with those two ladies in front," who were totally unaware of me being stopped.
"OK Sir, on you go."
"You scared the bloody life out of me mate." I replied.
The I legged it to catch Noo & San up.
All in all we had a fabulous holiday, in which Noo decided almost immediately, that she wanted to come with us in September for the meet up.