This is just the review I had under special offers section but thought it would be good here as well.
There were some great offers in Magaland and Palma Nova this year and Im not exaggerating when I say cheap cheap cheap ,here are some photos I took and this was all over the place ,if there cheap on the strip then you can guarantee they are cheap everywhere else.
CITY LIGHTS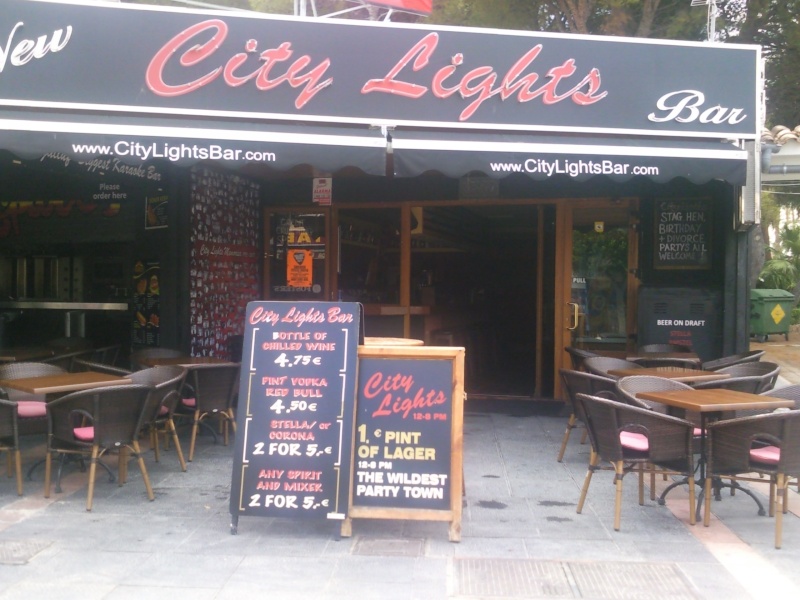 THE RED LION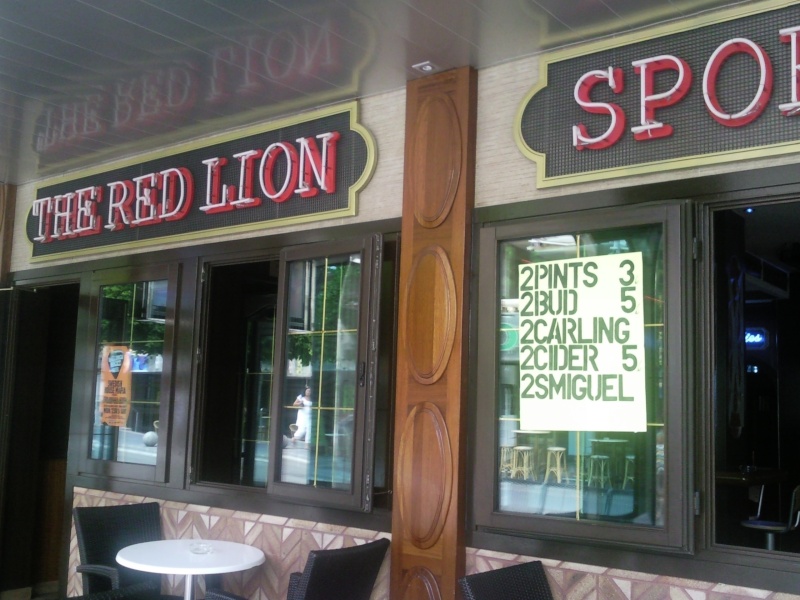 BONKERS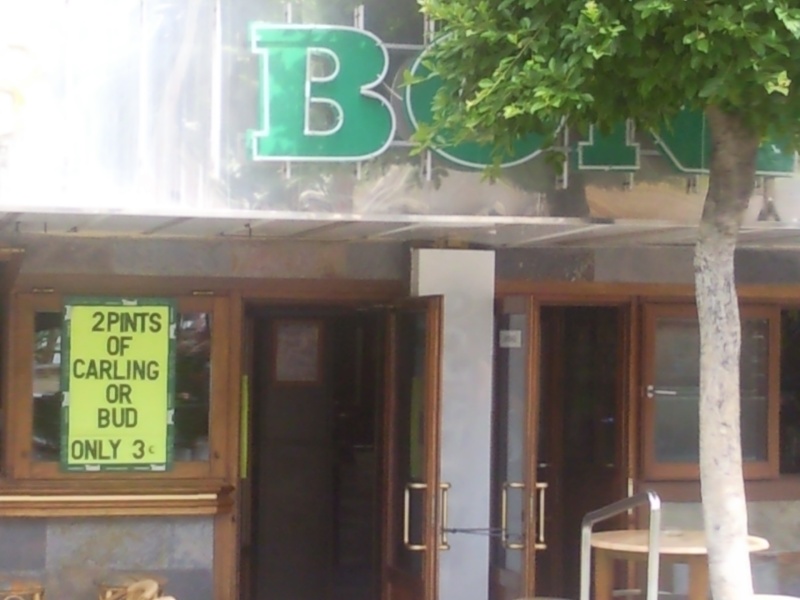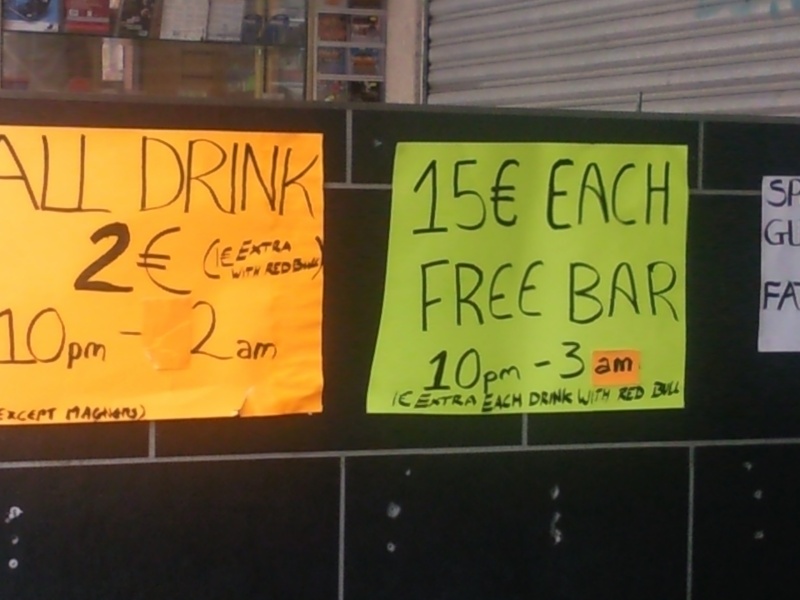 CHAPLINS I love this bar as they play lots of 80's tunes and Im gonna have a few in October here, anyone want to join me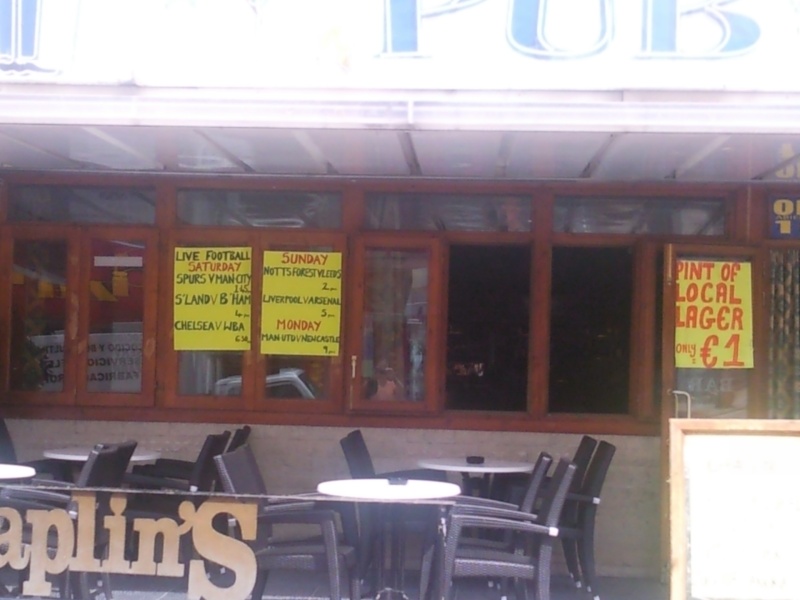 REVOLUTION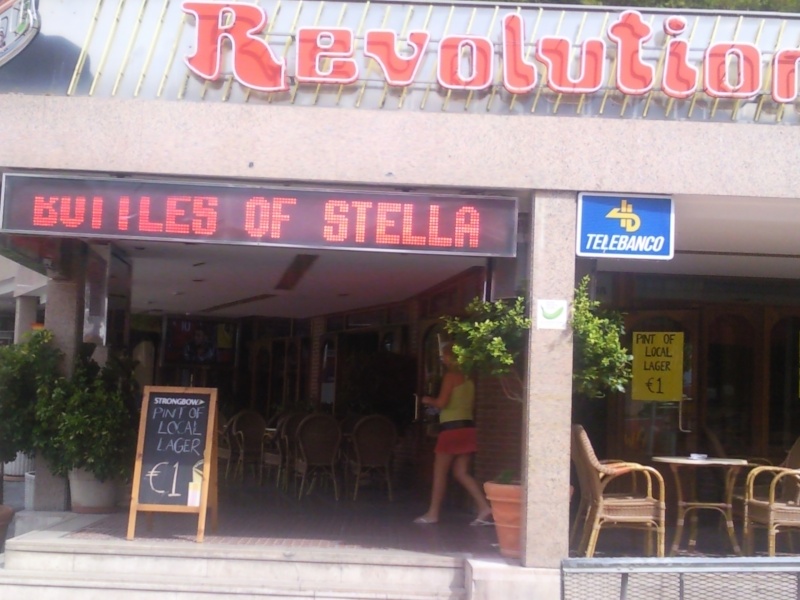 MULLIGANS Me and Debbie went here one year every night but not been for years so this is one place Im gonna have a drink in , October for old times sake.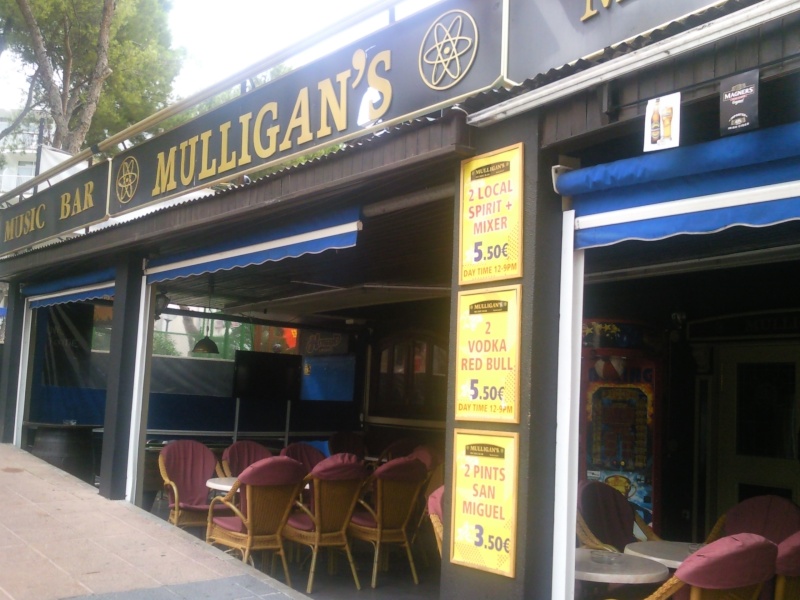 There were just to many photos of these offers to take they were everywhere.
We saw 5 bottles of san miguel in a bucket of ice for €5, and everywhere else had these offers above.
There were two chill out bars on the coast I went to ,one of them is at the far side of Magalluf Beach as far as you can walk its called the Parriaso 2 or something like that but they stung us so would not go back as this was the second time they had done it in all the years we have been going there ,Ive seen 10 of us drink in there all day and I mean alot of drink at not so bad prices but Im afraid they have had the last penny out of me now.
Chilli Lounge on the coast, I bought 2 pints of lager and a glass of pop for the bairn and it was about €8 but the so called pints were in a bowl and were not really pints ,I would say they were three quarters of a pint so I wont be going back there either.
Bacos was another one of the more expensive bars but I didnt mind paying as the entertainment has to be paid for and I have to say it was very good, we were paying €5 for a pint and a half of lager, everywhere else was on average €1.50 .
Manos Bar one of my old favourites was 2 pints for €3 all day and night and a canny pint.
Woodys Bar was also €1.50 a pint and was really nice.
Mrs Doyles had a nice pints of Carling for the same price as local, I think it was €2.50 a pint cant really remember as I was half cut and they do alot of live Irish music and its the real I am.
In the BCM square they had an offer on about 4 bars where you paid a set amount and drank all you could but I think this was only on spirits.
BCM's had several offers over different nights, they ranged from foam partys for about €20 where you got a free teeshirt and bag or towel etc then all you could drink but this was only spirits ,you had to pay a bit extra for lager and alcho pops.
I didnt have that many bad pints and the ones I did have I wouldnt go back to , or I would just have a bottle instead.
The Britannia was not that cheap and the beer was rank ,honest it was really bad but they had a lady that was a really good singer so I drank bottles in there but only late at night when the bairn was starting to feel tired as it was close to the hotel.
I had a pint for 80 cents but it was terrible and I never went back there at all.
I had a pint of draught in the piano bar and got a free sangria ,to be honest I didnt like the draft at all ,the staff in there are brilliant and really friendly and the sangria was nice.
Benny Hills is a bar we had not drank in for a while but thought we would give it a go and this is where we bumped into moocher the first night, I have alot of fond memories of this bar and I have to say the lager was nice this time round ,I also drank sangria in here nearly everytime we went in and that was also nice.
Ill add more when I remember lol